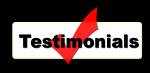 "I have never been more pleased with the way I was treated at the time and the money she has saved me in the long run, I will always tell my friends and people I meet and ask me for help with their computers about her. I told her what I expected out of my macbook and she gave me exactly that. I also had her build a desktop pc computer for me with the most recent anti-viral software installed and it has performed flawlessly since the day I bought it and that was almost if not more than 10 years ago."

Bryan Hilliard - Kittanning, PA

"I bought my computer at TJs Custom Computers.

Best price, Best service."

Jack - Freeport PA

"TJ is an excellent excellent, trustwothy person to have in a persons home and very thorough. I think you are wonderful"
Maryellen - New Kensington, PA

"I want to thank you once more for getting my computer in good working condition. You organized my email program so well I now breeze through sending/receiving. 
The system is so much faster since you cleaned up all those unneeded files and programs I wasn't using and added the additional memory.

The security system you installed has given me more confidence that I am protected from future viruses. The instructions for maintaining the system are easy to follow also. 
The support you give to me when I call with one of my "senior basic questions" is great. I am greatful for finding you and will not hesitate to recommend you to any and all who are having computer problems."  
Best to you,

Alma - Natrona Heights, PA

"TJ's Custom Computers helps me keep my 4 business computers operating smoothly and free of viruses/bugs. I don't trust my computers to anyone else."

Jan - Freeport PA

"Thanks for all you do to keep our computer running smoothly. No matter when we call with a problem you fix it quickly and efficiently. If not for you I believe our computer would never run the way it should be running. Again thanks for all you do for us."

Bob and Joyce - Sarver PA

"TJ's Custom Computers is very knowledgable in all aspects of computer systems. They have given me good advice anytime I've had a computer related problem. I consider them to be my "go to guys". They're a very competent and reliable company and I would recommend them to all my friends. I give them an "A+"

Jeffrey - Rural Valley PA



If you want to submit a comment about our service, we would be so grateful!
Contact us at 724/919-8643 or click HERE 
TJ's Custom Computers LLC @ 2017 | All rights reserved